You can enable Emacs keybindings within the RStudio IDE from the Code section of the Global Options dialog: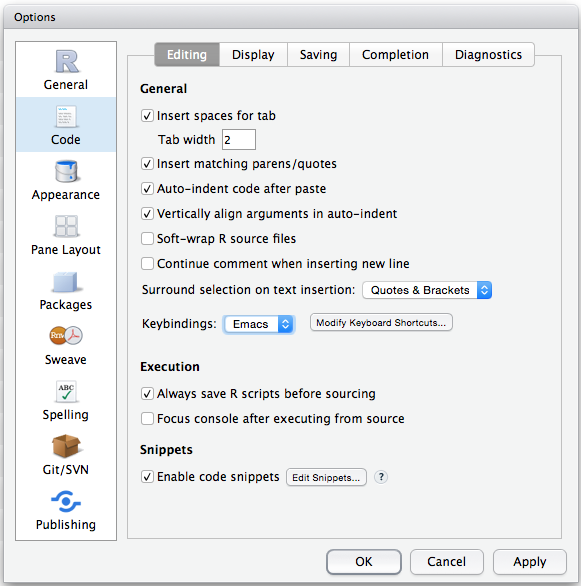 A base set of Emacs keybindings for navigation and selection are available, including:
C-p, C-n, C-b and C-f to move the cursor up, down left and right by characters

M-b, M-f to move left and right by words

C-a, C-e to navigate to the start, or end, of line;

C-k to 'kill' to end of line, and C-y to 'yank' the last kill,

C-s, C-r to initiate an Emacs-style incremental search (forward / reverse),

C-Space to set/unset mark, and C-w to kill the marked region.
There are some additional keybindings that Emacs Speaks Statistics (ESS) users might find familiar:
C-c C-v displays help for the object under the cursor,

C-c C-n evaluates the current line / selection,

C-x b allows you to visit another file,

M-C-a moves the cursor to the beginning of the current function,

M-C-e moves to the end of the current function,

C-c C-f evaluates the current function.
We've also introduced a number of keybindings that allow you to interact with the IDE as you might normally do in Emacs:
C-x C-n to create a new document,

C-x C-f to find / open an existing document,

C-x C-s to save the current document,

C-x k to close the current file.