The RStudio IDE's Source Windows allow you to edit files outside the main RStudio window. This is useful for splitting your work among multiple monitors, or devoting more space to your editor.
Creating Source Windows
There are two ways to open a new source window:
Pop out an editor: click the Show in New Window button in any source editor tab.

Tear off a pane: drag a tab out of the main window and onto the desktop; a new source window will be opened where you dropped the tab.
You can have as many source windows open as you like.
Managing Documents and Source Windows
Each source window has its own set of tabs; these tabs are independent of the tabs in RStudio's main source pane.
To return a document to the main window, click the Return to Main Window button on the editor toolbar.

To move a document to a different source window, grab its tab and drag it into the window's tab bar.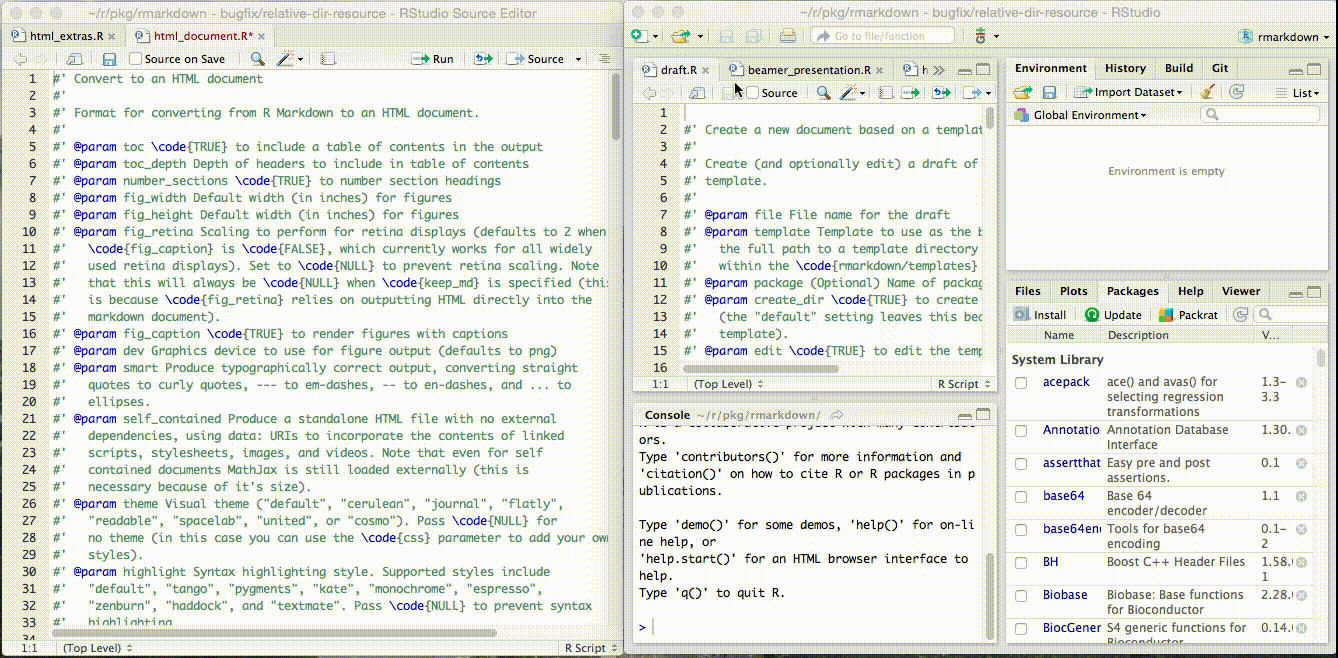 You can also use this method to return documents to the main source pane.
It's not currently possible for a document to exist in multiple source windows at once, so there's no gesture that "duplicates" a document in this way.
Navigating to Source Windows
The easiest way to jump to a source window is to use the global Go To File/Function tool (Ctrl + .). Begin typing the name of the file you want to navigate to; when it appears, select it and press Enter.
When a document is open in a source window, RStudio will jump to that window whenever you navigate to the document, or to a symbol in the document.
You can also use the shortcut Ctrl+1 to go to the last source window that had focus (which may be the main RStudio source pane).
Source Windows on RStudio Workbench / RStudio Server
Source windows on RStudio Workbench (previously RStudio Server Pro) and RStudio Server Open Source behave much as they do in RStudio Desktop, with one primary difference:
When you navigate to a file, in any way (e.g. jumping to a definition), that file will be opened in the current window; if the file was already opened in a different window, it will be closed there first.